I hope you spent nice holidays with your families :-) I was really surprised to get the lovely Christmas cards, I didn't expect any because of the long hiatus on here. Thank you, lovelies :-)
Also, I hope my cards reached you and if not yet, that they will soon (I know the weather blocked many of them in Europe).

I spent Christmas mostly with my boyfriend - as you know, we live together - and his family. Its due to very some bad events in my own family resulting in my family cancelling the Christmas. :-( So - just like Lauren (sorry, girl, the dumb thief should bite the dust!!) - I want to wish very Happy Holidays to the jerk who didn't payed my father for his work and made him go completely bankrupt. I'm really happy to pay for two households now, thank you, dude.

Lots of love to you all and sorry for not posting!

Ava xx
Happy New Year, Rushies!


I hope you are all doing well, are healthy and prosperous ;) I'm traditionally busy in my work, with my poor lil' laptop down for second month in a row :/
What a joy.
Anyway, I would love to hear from you, what's new in your life, how are you doing!?

I'm doing well. Keeping busy, enjoying life, slightly cold in this terrible wetaher but whatever :) And guess what? This weekend moving in with my boyfriend. I mean, wow, I'm nervous yet excited! Would you believe it? Our own apartment! :D Amazing. I wish everyone shared my excitement...

Would love to hear from you :)

Byee!!
Hello, Rushie friends!
Current Mood:

excited

May all your dreams come true!!!

Ava
xoxox
Happy Belated Birthday, babe! Wanted to put this up on time, but wasn't at home yesterday so I hope you dont mind :)

How's everyone in Rushland? Any special projects in the air? ;)

From me, I'm still (surprisingly) busy in work and love it more and more. Yet, on a private front things are not that shiny. My poor father didn't get payed for all his work and we've been waiting for months now. So if I put it without the drama, right now it's me feeding the family of three and believe me, I'm not payed good enough to sustain it for long. It would hardly be enough for one person. So leaving the nest will have to wait... Thankfully this week I'm gonna get my paycheque and it will keep us going for some time again.

What else? Like if it wasn't enough, Ava suffered a heartbreak. Men are really mean creatures (except El Capitan, of course!). Maybe I had it coming; there was no romance, no promises and so. I just saw something that didn't exist. Being cryptic, huh? lol To put it simply - I fell for him, he didn't fell for me. Now, work and my dear colleagues are helping me a lot in the process of dealing :) I love my colleagues and my work! (yay!)

SO .. what is new in Rushland?? Let me wish our b-day girls again Happy Birthday! (Laura!! Josephine!) Many many happy years to both of you and lots of love :)

I *squee* and *hug* everyone!
Ava
Huzzaaaah! I've worked two weekends in a row and finally this Sunday I don't have to work and this weekend is FINALLY sunny and warm and beautiful. After the heavy rains and floods in my area, it's a welcomed change indeed!
Current Mood:

relaxed
HAPPY BIRTHDAY, CATE !!
My best wishes and best vibes to the most amazing French lady I've ever had the honor to know. You are the ray of light, Cate, and I hope that life has yet the best things saved for you and for your beloved ones :) Health, love, luck, happiness and much more!!
With all my love,
Ava :)
Joyeux anniversaire
Joyeux anniversaire
Joyeux anniversaire, Cate
Joyeux anniversaire !!!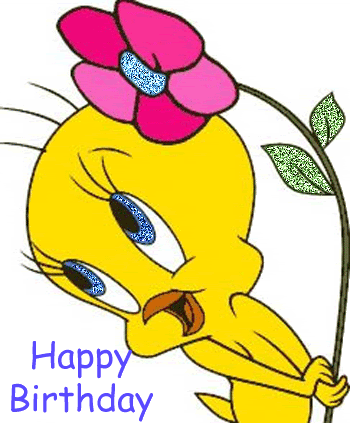 *phewww* Almost missed it! I just arrived from another few-days-long professional training in a facility for asylum seekers and was RUSH-ing to write this entry!! ;)
Current Mood:

cheerful


What a random post. lol

Just to let you know I'm still alive ;)

Super-busyyyyy and exhausted from all the travelling back and forth Ostrava - Prague, but I wouldn't change it for anything.

I'm simply a happy camper.

Now to find Mr.Perfect *makes a note in the calendar for 2010* LOL!!

The best thing is, I might be available for the future GR gatherings! :D What a blast that would be *-*

Anyway, hope you're all doing well!! Miss you and thinking of you! Lots of love and good vibes!!

Ava
xoxox
I have the best job!
Current Mood:

cheerful


Point being - I LOVE my job :)

And yeah, its hellishly demanding. Im in terrain a lot, contacting the possible clients. Also a lot organizing and even more learning. Will spend most of the April in Prague (without internet, boohoo) schooling. Also gotta do again my driving tests so I can drive the cars of Interior Ministry. Boohoooo twice o.O Of course, I'll have to prove my driving skills in Prague. Oh my...

My collegaues are awesome, so far. Very helpful, down-to-earth, funny ppl but also very profi. No arrogant dudes. It was a busy BUSY week. and will be worse. And Im sure Im gonna enjoy it.

And the weather smartened up and its plus 17 Celsia degrees today. YAY!! :D

Lots of love!!!
xxxx
Tired. Exhausted. Crawling. Busy.
Current Mood:

cheerful

Who *they* are?
Interior Ministry of Czech republic!
Yes, from 15th March I will be a social worker for The Foreign Nationals Integration Support Centre.
Wanna know the goal?

"The Foreign Nationals Integration Support Centre project, co-financed from the European Integration Fund, aims to create opportunities for long-term and strategic support of integration of foreign nationals. As of 01/07/2009, four regional centres based in Ostrava, Pardubice, Plzeň and Zlín launched their activities."

Provided Services
Consulting and information services
Legal counselling
Czech language courses
Social and cultural courses
Internet point and library

I'll be in team of four, small office and not the best salary (plus killing working hours - even some weekends), but Im thrilled nevertheless that I WON over other applicants and in fact, its a VERY interesting area of social work which I'm eager to research and learn more about!!
I think my boss is awesome, and colleagues look really cool... looking fwd next week!

Thanks everyone so much for your support, help, advices and everything. You Rushies are best. :D
Now back to the pile of study material I got already xD

Love and hugs and kisses to everyone!!!
Ava
xxx
Huuzzzaaahh, my fellow Rushies!!! As some of you may know (Renee? Lauren? ;)) I've finally succeeded in my neverending fight with unemployment and yes, I got a job!! You can imagine how thrilled I was/am and so on. I was getting really desperate and, yes, this came unexpected. Out of the blue. I sent my CV and didn't expect them to call back, I wasn't meeting all their requirments. But they made the call and asked me for te interview.
Current Mood:

cheerful
Laura - So sweet Xmas card!! Thank you, corazon! I hope you had amazing time ! :) Incredible how big distance it traveled to get to me! :) Oh, in London I saw many many birds' feathers in natural history museum and immediately thought of you..pity they were not for sale!! :)
Alison - Sweetie, thanks for your lovely card (beautiful!!) and your gift (w-o-w!). It arrived after I've returned but definitely won't be wasted, because I'm already decided to return to UK as soon as possible! And your gift is actually a sign from above that I should! :D If you have read/seen my little travel report, you figured we didn't have a chance to see all of London sights and I absolutely fell in love with the city/country :) I would actually love to return this summer and stay a little longer if possible... I can't wait! *fangirlish breathless excitement* Thank you for you generosity, dear!! xoxox
Lauren - your cards are always cheerful that it bring a huge smile on one's face!! ;) Even the envelope is a little piece of art! haha I love the shiny metalic pen you use... bought one, but it stopped working for some reason... and I wanted one for years|! What a bummer lol Be careful what you wish for... noted :) Thanks for the lovely card and the fantastic Fantales! YAY! They are yummy..and first one I pulled out of the package was of course about Geoffy (what a luck!) :)) They are great for strengthening the jaw. And so tasty... *sigh* Thank you soo much!!
Now I'm pretty much surrounded by Rushie love here... It feels just fine!! Thanks g*d I have a big table!! lol I hope I didn't forget to name anyone!!
Now on a job hunt so I can feed my newly found love for travelling...
Love, Rushies!!
xoxox
song for you
That's how I felt with the new Xmas mail shower after my return from London! :D Makes me feel - how do you say that? - all warm and fuzzy (?) ;)
Current Mood:

grateful
Since yesterday actually, but I was sharing all the London awesomness with family and, yes, after 24 hours in bus I was dead exhausted that I dropped off soon :)
First ...
LONDON WAS AMAZING!!!!!
Sorry if the report is a little incoherent, but I slept 14 hours and am still dead tired :) In 5 days, I slept hardly 8 hours in total :)
Cate - when I was passing France I was waving and saying "hi", I hope you heard me ;)
The bus ride to UK was long and exhausting, but really okay. You might not believe but the FIRST film they let us watch in the bus was ELIZABETH: THE GOLDEN AGE!! You can imagine that I was over the moon :D And showing both my friends Geoffrey, but they could not really appreciate him, one is goth and one emo, so... lol You can imagine. We were incredible group. And loud. haha
The control before the Channel tunnel was at around 6am (everyone half asleep) and really... bothering. Both controls. Like the cattle in a tiny room, ick! But then they loaded the train with us and bus (ha!) and we enjoyed being the tube mail ;) It was incredible. I took a walk inside the bus during the ride (thanks g*d I don't suffer the seasickness!!) and it was really fun. Just don't ever think of *where* exactly you are :D
After some 30 or 45 minutes we emerged in Dover (or I think so :)) and I think I will never that: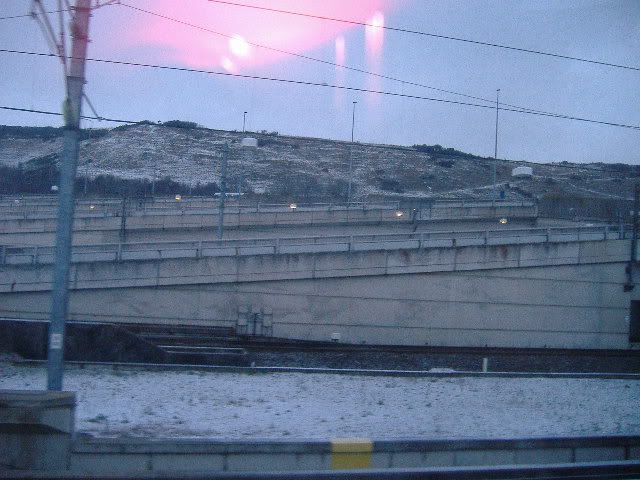 The hotel was awesome! Check in without problem, very nice personnel (Days Inn Hyde Park/ Sussex Gardens - recommend!). The room was small but nice and tidy :) We got a map for free! And then... yeah, London underground. Jesus!! xD We used that and eventually became familiar enough (hear my pride XD) to travel with it.
First day we've visited Natural History museum. After 24 hours in bus and without sleep, I felt really... hyper :) It was incredible. Especially dinosaur exhibition: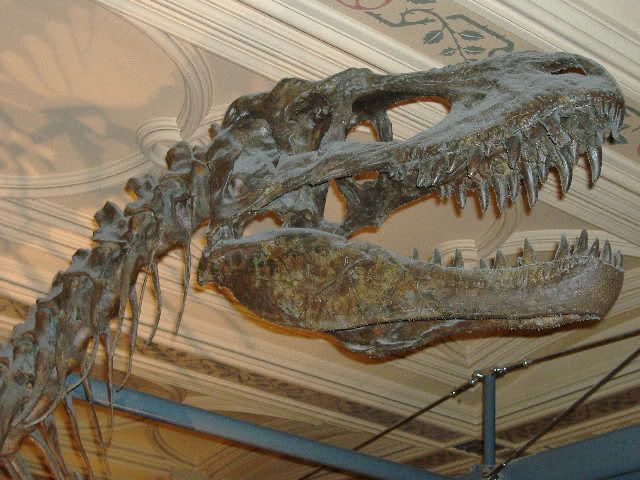 Laso other exhibitions were incredible. We spent long time with stones/minerals; mother nature is really creative. But not always :)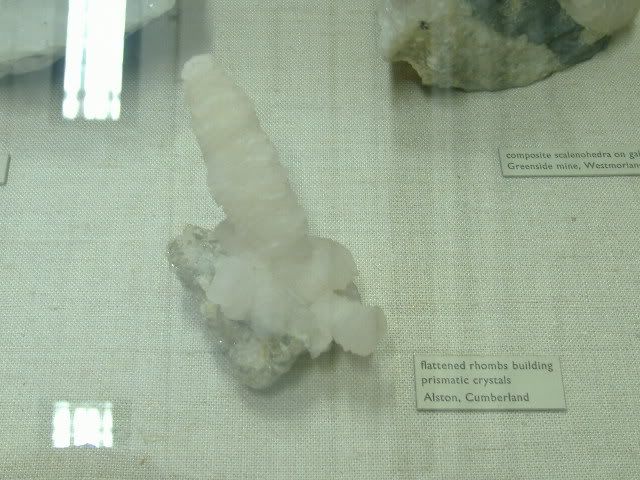 What we really loved was the architecture. The museum after the sunset is breath-taking!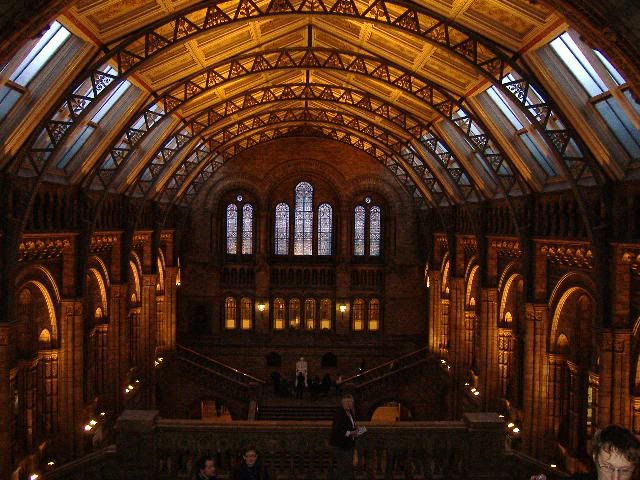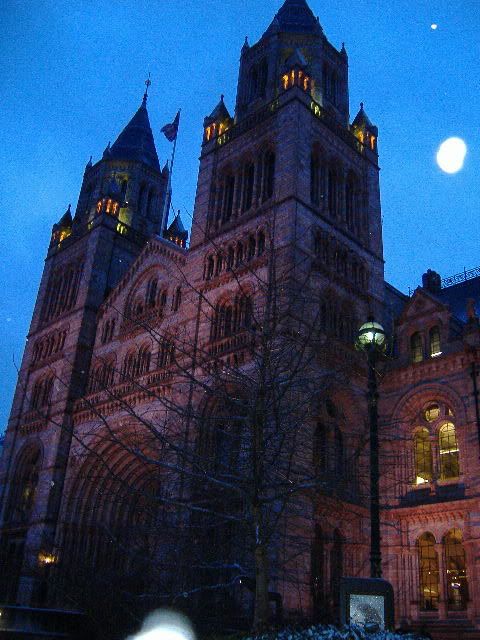 I wish we had more time to see that all. But we were running out of time :(
6th was also the last day when Oxford street was still having this beautiful Xmas decoration: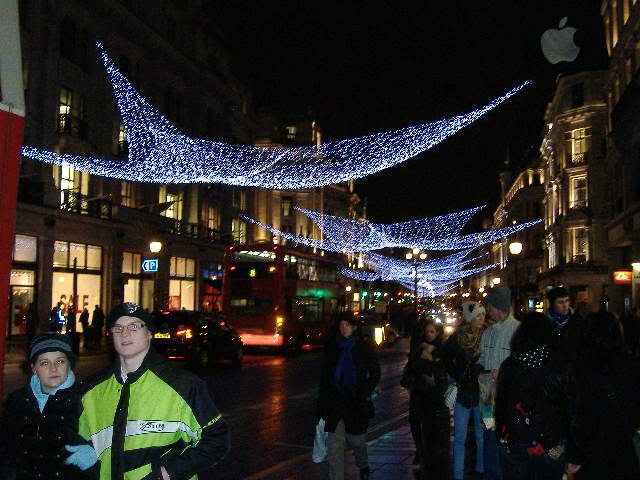 Its so long that my poor legs suffered almost breakdown during the walk there xD But many shops are pretty similar to those we have in Czech. Many have prizes that must equal the trip to the space o.O I actually didn't buy anything there. Except HMV where I bought in sale "Serenity" DVD! Serenity/Firefly ftw!! :D I also wanted to buy Lostprophets new single, but they didn't have it. Losers!! :( Doesn't matter, I'm gonna buy an album. But still...
Back in hotel we got a new member of the group (named appropriately "Lost llamas") - Mr.Lemon: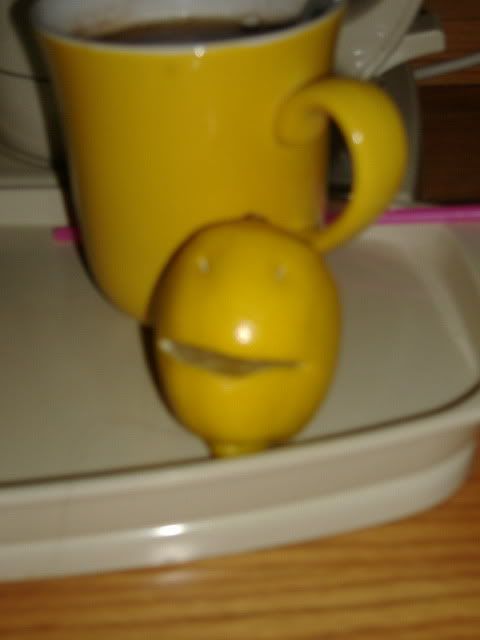 )
We had a lot of fun with him. Don't ask how I cut him, he doesn't like the story. I dont either. Note - I didn't have a knife. lol
The next day was really exciting. We were to go to the listening party for new Lostprophets album at 6.30 pm. But first we have visited Sherlock Holmes museum and British Museum. Yeah, it was busy but definitely worth it! I'm a big fan of Holmes and the museum was my dream comes true :) Here is me with the biggest criminals of the victorian times (doc Moriarty excluded lol):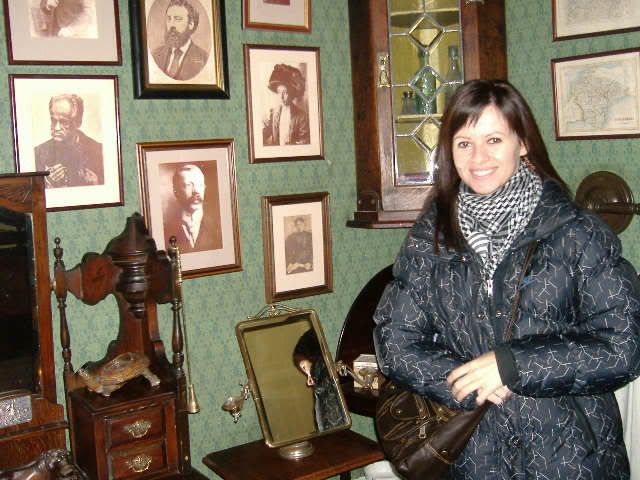 and :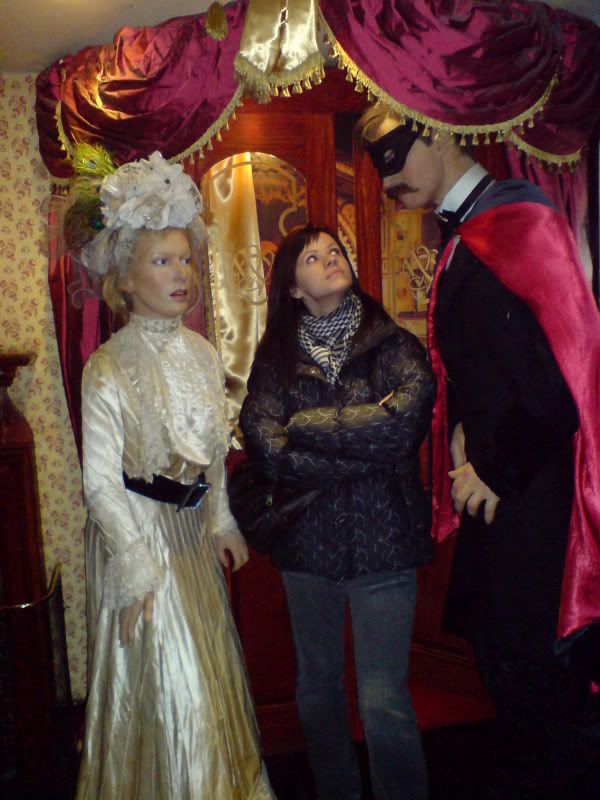 Bitish museum is huuuge. We've seen maybe half of it. Pity we couldn't visit every exhibition, but we would starve to death before the party itself :) I absolutely loved the egyptian exhibition and, yes, pity I missed most of the asian one!! Impressive collection :D And daaaaamn cold rooms!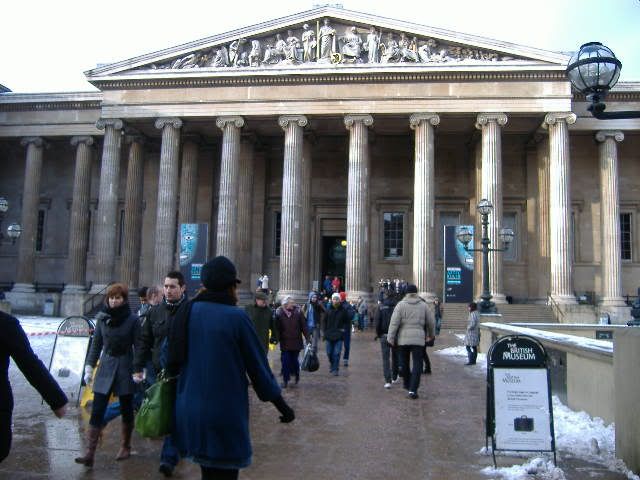 Hello Pharaoh!
Its beautiful and hard to believe its so OLD!
Random stuff that made us laugh reall hard :)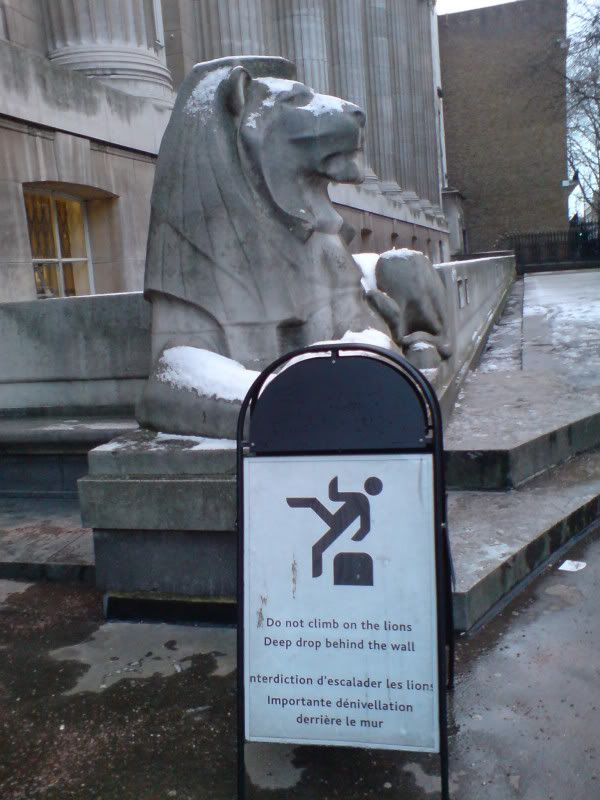 From the museum we went for a short "where-the-heck" are we trip, but eventually managed to find ourselves again. Thanks to random lady who stopped by us and asked if we got lost and offered her help. :)
Lets skip the restaurant and pizza (which was tasty) and get to the party.
Lets make it clear - it was cold outside. It was f*cking freezing, actually!! We waited almost an hour there. No real complaints, we were logically b*tching, but mostly really because of the weather because we were honestly happy that we made it there.
Inside we had to show them our ID cards (problems with names - too long too strange, classic!) and got VIP paper bracelet. WOOT! VIP for the first and last time in my life!! :D Then we had to get rid of out bags and everything. No cameras, cell phones, whatever. Check up by the door. Yes, I had the jumper. Bodyguard or whoever asked me to show him what's under it. I did "my little turn on the catwalk" showing him how girl looks like xD He and his colleague turned a little red and went like "wow" geeeheee Guess I got them funnily embarrassed, but they looked honestly happy and sent me in the showroom!
We met two italian girls there, who knew my dear friend. We hit it off right away! They were really fun and made the evening/night incredible fun. THANKS!!
We had some energy drinks there and they really kept me alive. We were sitting on the ground and listening to the Betrayed album and we absolutely loved it!! Its damn well balanced music and everyone will find his fav song there IMHO From dark and gritty stuff to almost (or completely) pop songs - loved them all. And I intend to buy it. I know they say if you download it for free its okay... well, guys, maybe that's the reason why I want to *buy* it. :)
The QaA ... I didn't expect anyone of the boys to show up. Really. When it turned out that at least three of them won't be there I thought the rest wont come as well. Why would they bother? Its not a big show or something. Not US or Japan, either. I came to see London, listen to album and maybe meet some new friends. Mission completed.
Imagine the surprise when Ian Watkins came. HA! To write about the following QA would take long... I loved it. Ian was cool, got my sympathies (I'm afraid I didn't got his with my lousy excuse that I babble just because I'm a foreigner LOL). He choked, he sang, he joked and talked back, he cared and shared (his Kit Kat with somebody's mum) and overall made the evening memorable. Thanks, Ian!
Another one, who got all our sympathies was Julie Weir from Visible Noise company - fun, charming, incredibly fun lady who had a small chat with our little company of foreigners and even agreed to take a photo with us! :) The best, we got a little gifts, too. It was awesome, thank you, Julie, you made our day(s)!!!
The rest of the night we spent chatting with our italian friends in their hotel, had a blast and wasn't really happy we had to leave around midnight to get back to our hotel and at least get ready to leave another day.
The problem was, the underground closed already. Bus is it then.
We couldn't find any that would stop on Paddington. Even better. We got lost. Wandering through the extremely cold night London streets, we met a young man who advised us a little (eventually pushed us a little closer to our destination!). The guy was... from Slovakia!! lol We talked english and when we were leaving he heard us and went like "Hey, who of you talked in czech??" and we "We all do!" xD Incredible!
At 1am we wandered Oxford street from one end to another, unsure in which direction Hyde park is. And still it was too far to make it without public transport. Long story short - a lot of frozen shaking and cursing (not all of us) and two double deckers later, we made it to Paddington and got to hotel around 2 am. Destined to wake up at 7am again and be en route to home for the next 24 sleepless hours. Mucho fun !
It was incredible time and I thaks everyone who made it possible. You know who is it. :)
Sorry for boring you.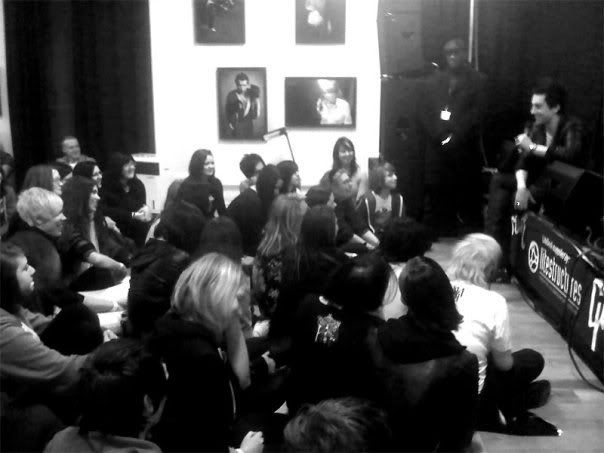 I am there (just hidden by another girl lol) !!
xoxoxo
Hello Friends!!! I'm SO home!!
Current Mood:

excited